As the health of banks roils markets anew, the last financial crisis is still playing out in Austria, with Pacific Investment Management Co. on the hook.
Pimco has teamed up with hedge funds and German banks to reject an 11 billion-euro ($12 billion) offer of 75 cents on the euro for their holdings in what remains of Hypo Alpe-Adria-Bank International AG. A multiyear Argentina-style standoff looms a month before the government-set deadline.
"We're now in a period of psychological warfare," Austrian central bank Governor Ewald Nowotny told reporters in Brussels last week. "In a purely economic view, everybody would be well advised to take the offer. I think it's a fair offer, and it's an adequate offer." Pimco declined to comment.
The confrontation stems from Austria's most painful bank failure of the 2008 financial crisis: Hypo Alpe was taken over by authorities after an ill-fated expansion in the former Yugoslavia.
Once it sold the assets it could, the rest was turned into Heta Asset Resolution AG to be wound down. Austrian regulator FMA moved in March 2015 after an asset review revealed a larger hole in Heta's finances. It then halted payments on the bonds.
Different
Interests
The settlement offer comes from the southern province of Carinthia, which guaranteed Hypo Alpe's debt when it was majority owner of the bank. It needs creditors representing two-thirds of the bonds to accept its offer by the March 11 deadline so that it can impose it on the rest.
Currently just under half object; the group mounting the opposition says it accounts for about 5 billion euros, or 45 percent, of Heta's debt.
"I was surprised a broad bondholder group rejected the offer so quickly since it didn't seem too bad," said Otto Dichtl, an analyst in London at Stifel Financial Corp. "Some might have committed at least for the time being to stick together, but it doesn't necessarily always make sense and the interests differ."
Pimco, which is owned by German insurer Allianz AG, is the only major buyer of the debt in the secondary market that has disclosed ownership, according to data compiled by Bloomberg. It took a bet on the distressed securities in 2014, according to regulatory filings.
Late
Buyer
Several of Pimco's funds bought into five different Heta bonds, mainly in the second quarter of 2014 for 4.375 percent securities due 2017. The combined position adds up to more than 300 million euros based on 100 cents in the euro, according to the data as of Sept. 30. The securities all traded above 95 cents on the euro in the quarter that Pimco made its purchases.
Pimco spokesman Jochen Haegele in Munich referred questions about the Carinthia offer to the bondholder group, whose lawyers forwarded e-mails to spokeswoman Nicole Baeck. She said the group is standing firm in opposition to the terms of the proposed settlement.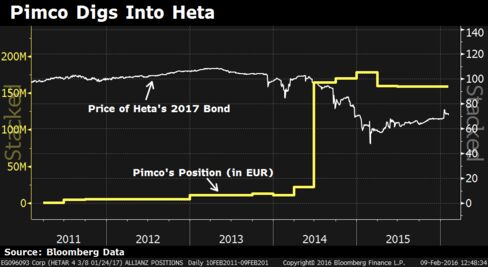 Austria last week turned up the heat, with Finance Minister Hans Joerg Schelling saying it could take as long as a decade to resolve Hypo Alpe unless investors accepted.
'Crisp'
Goose
German banks, including Commerzbank AG and NordLB, constitute the biggest group of Heta creditors. Most of them bought the bonds before 2007 and have written off half the nominal value, following orders from the European Central Bank and Bundesbank, according to public filings. While some of them are part of Pimco's group rejecting the bid, they could still take it, book a gain and move on.
Commerzbank Chief Executive Officer Martin Blessing told reporters in Frankfurt last week that he wants to keep his options open. "Someone in Austria once told me that it's the last 5 minutes when the roast goose gets crisp," he said. "Let's wait and see what happens."
Hedge funds including Knighthead Capital Management and Canyon Capital Advisors also own Heta bonds. Many of them started buying after Heta was put into resolution last year; at the time, they could have bought the securities for as little as 55 cents on the euro.
For holdouts, the potential for a higher payout will only remain attractive if it doesn't take too long, said Frederick Gentis of Wallich & Matthes, a fixed-income trader specializing in German and Austrian deficiency guarantees.
"There will be a trade-off between the loss and the time it will take to get awarded par in court," he said. "If getting to a payout means three years or more in court, a loss might be considered."