High-value-denomination notes have been under attack lately. The latest volley came from former Treasury Secretary Lawrence Summers, who today called for the G-20 to agree stop issuing banknotes with denomination higher than $50. 
Right in the cross hairs at the moment is the €500 ($557) note, with European Central Bank President Mario Draghi telling lawmakers on Monday that there is "increasing conviction" that such large-value notes are used for illegal purposes. He added that the central bank is currently reviewing the use of the high-denomination bill.
There has already been pushback on the idea of abandoning the €500 note. Some seem to view it as an attack on the use of cash in the economy, with Austria's Deputy Economy Minister Harald Mahrer saying, "We don't want someone to be able to track digitally what we buy, eat, and drink, what books we read, and what movies we watch," in a recent radio interview. 
Austrian fears aside, there is something in the data that points to a further reason for abandoning the €500 note: People no longer seem to want it. Taking circulation data from the European Central Bank, we can see that from January 2002 to December 2011, the value of the high-denomination note increased by €269 billion, an average of over €2 billion per month. Since January 2012, that average monthly increase has fallen to less than €200 million.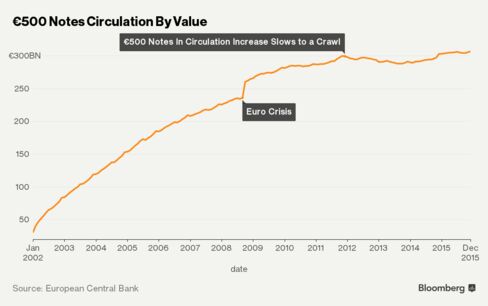 Meanwhile, growth of the total value of euros in circulation has remained pretty much constant.
The European Central Bank has reduced production of the €500 note, but because production of bank notes by the euro system is a demand-led operation, the fall in production does not reflect a curtailment of supply by the central bank but rather a reduction in demand from consumers. (Note that production statistics do not include notes manufactured for the introduction of the euro currency.)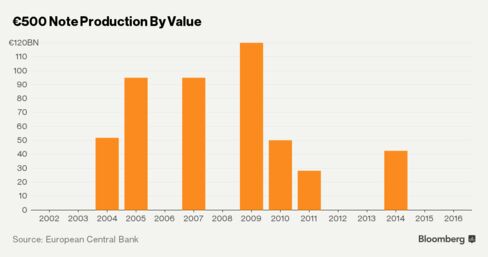 If the collapse in demand for the €500 note is not due to supply issues, why don't people want it? It could be that the note—also know as a "Bin Laden" because people knew what it looked like but had never seen one—has developed such a reputation as a criminal currency that honest brokers avoid it for fear of getting tarred with that brush.
Or it could be that the criminals have merely found something else to use.
For savers and other honest brokers, Mario Draghi did have some good news on Monday, when he reminded them that there is always the €200 note to fall back on.